Designing Trader Sam's with Trader Brandon - Show Notes!
We have a really special episode with Imagineer Trader Brandon!
We talk about a ton of things that require visual aid, so here are some of the things we spoke about. Let us apologize in advance, many of the original paintings and pieces within the bars are not easily accessible online or in books. We've combed our resources and some things are certainly not online for us to share here. 
If there is anything you are looking for  and have questions please don't hesitate to email us at CryingAtDisney@gmail.com.
Listen to the Trader Brandon episode
here
!
We start off talking about Tony Baxter's home... it's unreal. Here are some great links featuring a detailed look into his home.
ThrillRide Blog

Disney Imagineer Hilltop Estate
More photos
Trader Brandon also mentioned how great the Disneyland's 50th Anniversary fireworks are, they're pretty great:
Leading into conversation about tiki bars and their popularity, if you don't know where they started from here is a nice little brief description of the beginnings:

Trader Sam's owes its heritage to a long history of tiki bars and tiki culture that started about thirty miles north of what became the Disneyland Resort.

In 1934, Don the Beachcomber, the founding father of Polynesian inspired bars and entertainment venues, opened his original restaurant in Hollywood, California as a lush tropical paradise. His real name was Ernest Gantt and he was just back from his travels in the South Pacific and couldn't get the memory of palm trees, women and exotic carvings out of his head — so he opened a bar called Don the Beachcomber.

Visit this link to learn more about Don the Beachcomber.

For those who have never visited Trader Sam's on either coast, here are some photos of the gorgeous locations:



Trader Sam's location in Disneyland (Medium.com)



Trader Sam's Grog Grotto, location at the Polynesian Village at Walt Disney World.

Each location is different and has their own secrets. Here is a great post by Disney revealing a few that Trader Brandon didn't speak about for Grog Grotto.


We began to talk about Disney Legend Sam McKim and his original paintings for the Jungle Cruise. While I can't find any of Sam himself, here is a nice history lesson written by the Walt Disney Archives about Sam McKim and his legacy.



Sam McKim

Here are both current standing versions of Trader Sam found on each coast:


Trader Sam at the Magic Kingdom in Walt Disney World



Trader Sam at Disneyland

The photoshopped images of Trader Sam found at the bar in Anaheim are quite amazing, though we couldn't locate photos of them all here are a good amount:


Trader Sam at the Temple of the Crystal Skull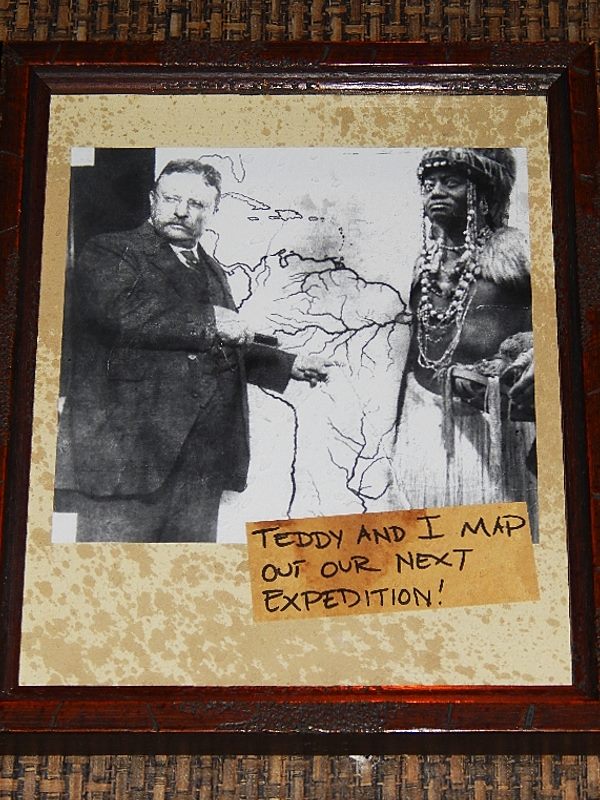 Trader Sam with Teddy Roosevelt

The photo of Trader Sam with Walt Disney, Mary Blair and company is a tricky one to locate. I'll keep searching for it!

This picture of Walt found at Grog Grotto is pretty great, though:



For those who don't know who Shiriki Utundu is, he is the figure that Harrison Hightower stole in his travels. Sir Hightower was cursed by Shiriki and that is how he met his demise at Hotel Hightower, the Tower of Terror at DisneySEA.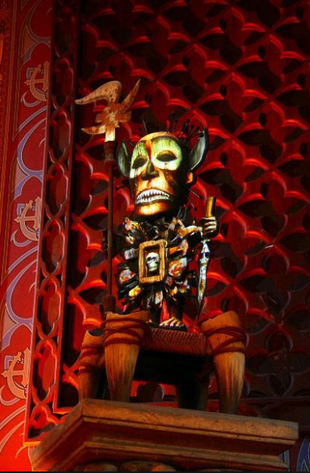 Great character, great story. We love him, and as always we are #hotforhightower.
Read more about Shiriki Utundu here.

This leads into a story about Uh-Oa, the Tiki Goddess of Disaster that was featured in the WDW Enchanted Tiki Room (Under New Management).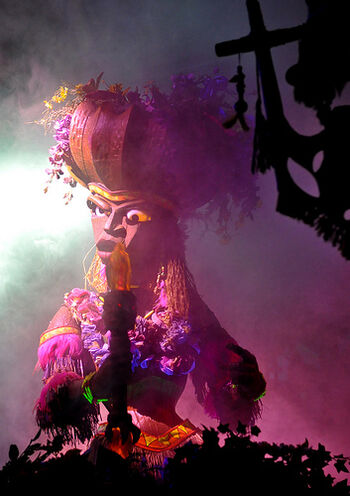 This version of the Tiki Room was SO poorly received by everyone. It featured Iago and Zazu as the hosts, and completely changed the original vision of Walt Disney's Tiki Room. Mysteriously, the Tiki Room caught fire in January 2011 and the only objects destroyed were Iago and Zazu. The original show, though slightly changed, returned in August of 2011.

Uh-Oa now resides beautifully in Trader Sam's Grog Grotto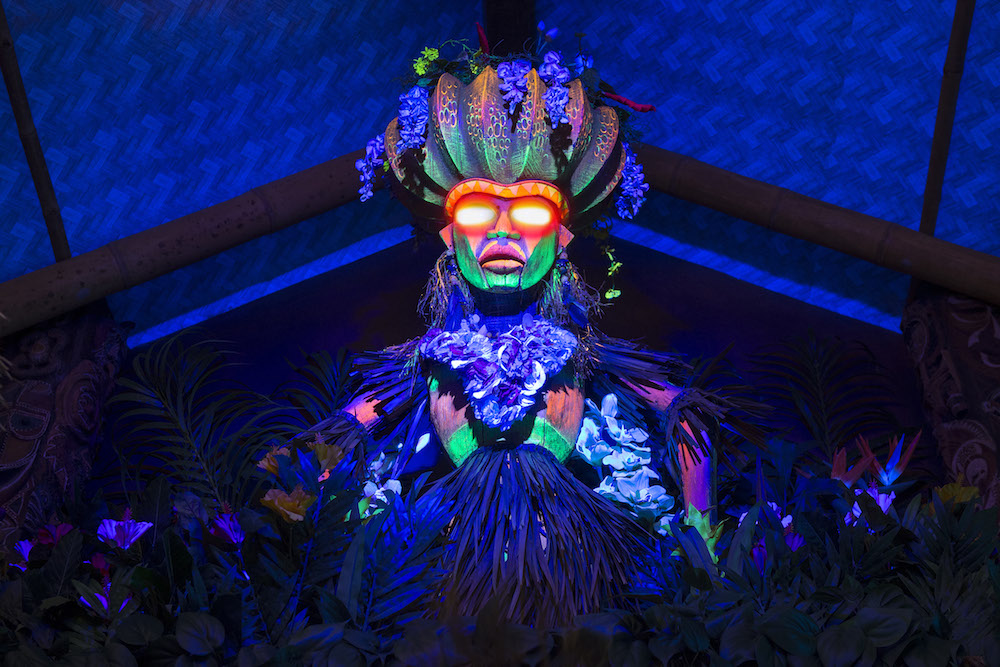 Proceeding this, we begin talking about the Adventurer's Club that existed in Pleasure Island at Walt Disney World from 1989 to 2008.
The Adventurer's Club had walls and rooms covered in artifacts and photographs from various expeditions. The club also featured animatronics, puppets, and cast members who performed in timed shows while also providing improv comedy. 

The club also is the root of many SEA (Society of Explorers and Adventurers) props and story lines. We really need to cover this soon... 
The wiki page for the Adventurer's Club is pretty extensive, give it a read to see how incredible it really was!

Here are some photos of hidden props/secrets in the Grog Grotto!


Maelstrom Ring of Life (via DisneyFoodBlog)



Antique Tiki Mug Collection from Don the Beachcomber.



Turtleshell Guitar from 20,000 Leagues Under the Sea! (via DisneyFoodBlog)



(Via DisneyTouristBlog)

"Joe" wooden carved mask named after Joe Rohde!




The banjo to represent Harper Goff!

Here is the Harper Goff window that inspired the banjo



Harper Goff was known as the "Second Imagineer" next to Walt Disney. Goff was legendary! Read more about him here.

That's all, folks! There is a ton of info here, but if there is anything missing please do not hesitate to let us know. We love to provide as much info as possible, so please shoot us an email at CryingAtDisney@gmail.com if there is anything you need to know.

See ya real soon!