The Story of Spaceship Earth with Rob Plays - Show Notes!
Hello everyone! For this episode about Spaceship Earth we are joined by Disney YouTuber Rob Plays!

Rob Plays is one of our favorite Disney YouTube channels, and he brings amazing content such as this:



Everything he makes is great! Be sure to check out his channel.


Meg straight up loses her mind for a moment, forgive her, we beg you.

Here are the notes:

We briefly speak about creepy attraction music, and this is one of the songs Rob Plays suggested you listen to early in the episode. Check out "If You Had Wings" here!

Rob Plays also mentions an amazing lengthy walk through of Spaceship Earth from the 90s, and we've found it! Check it out here:
Spaceship Earth, the icon of EPCOT was the center attraction of the park. An 18 story geosphere, the first of its kind to house a dark ride opened with the theme part in 1982.
Originally, Spaceship Earth was conceptualized as a geodesic dome, inspired by the Expo 67 dome in Montreal (now a biosphere museum), which was designed by Buckminster Fuller. However, soon the Imagineers began to want something even bigger and more dramatic and came up with the never-before-seen geodesic sphere, where guests would go up inside of a ball instead of entering a door on the side of a dome.

Buckminster Fuller wrote the book Operating Manual for Spaceship Earth, so having him design the actual geodesic sphere was truly spectacular. Paired with famous writer Ray Bradbury, who wrote the original script of Spaceship Earth, there was no better of a duo to start off this park icon. The various historical scenes throughout Spaceship Earth span 30,000 years. The Smithsonian Institute was consulted in order to ensure historical accuracy.

In addition to those two spectacular creators, painter Claudio Mazzoli was found by Disney Imagineer Marc Davis to create the ICONIC mural found outside Spaceship Earth.




Here is an article by Disney Parks Blog about the mural:
The Celebrity Mural of Spaceship Earth


The original narrator, Vic Perrin, changed to Walter Cronkite in 1986. Along with this change came the song "Tomorrow's Child." The narrator of the ride changed from Walter Cronkite to Jeremy Irons in 1994 along with a new musical score and 12 new scenes.

Listen to Tomorrow's Child here:



It's amazing!!
Spaceship Earth went down for renovation in 2007 and reopened in late 2007 with new touch-screens that light up near the end of the ride, along with changed ride scenes. Jeremy Irons was replaced with a new narrator, Judi Dench. A new soundtrack was also put into place.
Good old Martin's Vids are here to show us through the original 1982 version of Spaceship Earth, and its refurb in 1986 along with some great history of the attraction. These versions feature Vic Perrin in 1982 and Walter Cronkite in 1986.
Martin's got the best videos anywhere, here is the 1994 version featuring Jeremy Irons!
And of course, Martin has the most recent version featuring Dame Judi Dench.



We cannot miss the opportunity to share the eyesore of the wand on Spaceship Earth:

WHY 
In the year 2000, a 25-story Mickey arm holding a magic wand was installed to celebrate the new millennium. That year, the text next to it read 2000. It was originally not supposed to stick around for that long but after that year they kept it until 2007, changing the sign to read Epcot instead.

In 2005, Siemens announced they were the new sponsors of SSE, which demanded a new version of the attraction, and the removal of the hideous Mickey Wand from the Millennium Celebration that lasted a bit too long. Siemens did not believe the sign fit well with the image they wanted to project, so it was removed and parts of it were auctioned off on eBay. The area where the sign was is now covered up by palm trees and vegetation. Siemens also sponsored the incredible show Illuminations: Reflections of Earth which I still miss to this day.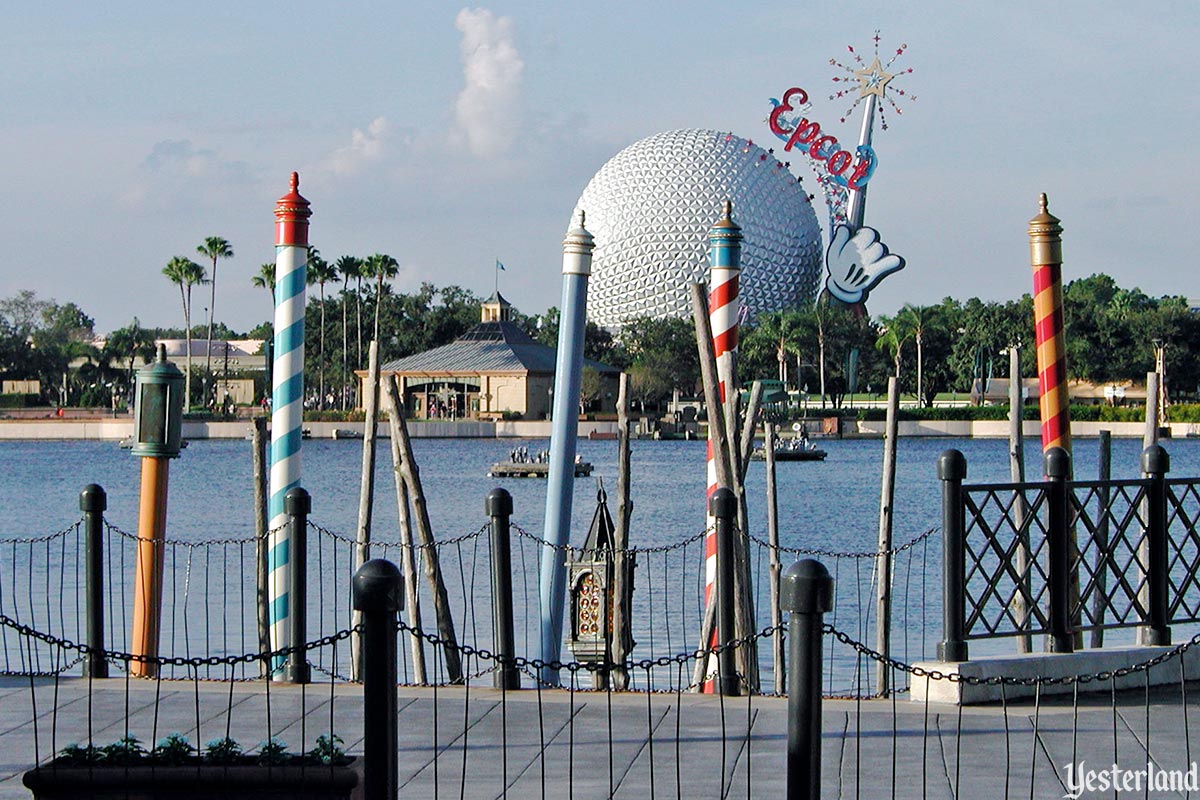 The iconic duo we speak about, the Mesa Verde Times, were an integral part to urban exploring of EPCOT, especially Horizons. Like we said, we don't condone the current climate of urban exploring in the parks but this - this is about love for an attraction.

Read their stories here:
http://mesaverdetimes.blogspot.com/


Let us know if you'd like to see more from this episode! If you have any questions or want to reach out please do at: CryingAtDisney@gmail.com.